A walkable, bikeable, connected community.
In the city, on the river, made for people.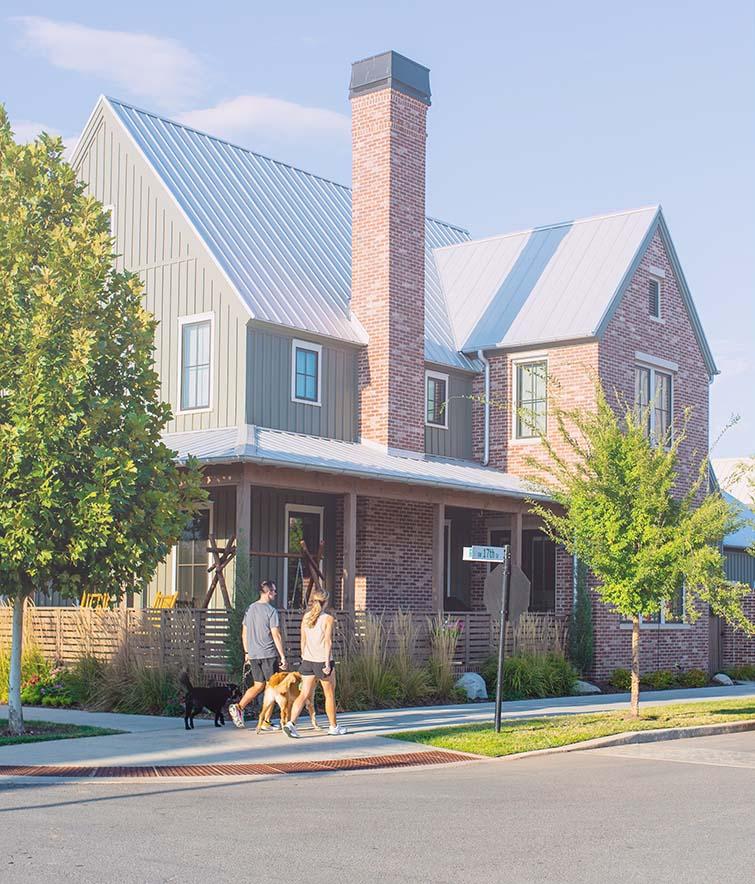 New homes in the urban core with intentional design and a growing community that is vibrant and connected.
Streets lined with a mix of shops, eateries, and businesses in a walkable and bikeable community.
A district designed for everyone to enjoy – visitors and neighbors can explore unique locations created for people.
Wheeler District is a growing community situated on the south bank of the Oklahoma River.
While honoring the site's history as a downtown airpark, the modern development offers residents varied housing options in a walkable and bikeable community. Visitors can explore retail and restaurant spaces, a public park, the historic Santa Monica Ferris wheel, and other unique locations as the multi-decade plan expands.
Wheeler District features a range of housing options for those who want the convenience and quality of a newly constructed home connected to the amenities and activities of Oklahoma City's dynamic urban core.
Wheeler represents the creation of an entirely new urban district. A mix of live/work/play spaces like shops, a brewery, restaurants, offices, and small businesses creating a connected and vibrant community.
Rescued from the Santa Monica Pier and brought to Oklahoma City, the Ferris Wheel has become an instant landmark and gathering place in our city. The Wheel is a destination for locals and tourists, neighbors and visitors, young and old alike.
Frequently Asked Questions
Still interested in learning more about Wheeler District? Click the button below to read all of our FAQs or ask one of your own.
Construction of the 14-acre Phase One of Wheeler District began in 2018 and is complete. It includes 83 single family homes, 10 live/work shophomes, as well as The Big Friendly Brewery & Taproom.
Phase Two construction of 22 acres began in 2020; by the end of 2022, we expect to have added over 120 new single-family homes and townhomes, and many more retail, restaurant, and other commercial spaces.
There are currently 10 planned phases of development, eventually reaching a full buildout of the 150 acres to make up the district. Although a strategic vision for the Wheeler District exists, we remain flexible regarding community needs and desires, which will affect later parts of the development. Have ideas? Send them here.
Wheeler District encompasses 150 acres which will be developed over decades. The boundaries are the Oklahoma River to the north, Douglas Avenue to the west and Twin Creek to the south and the east.
The Wheeler community was designed by the legendary urban planning firm Dover, Kohl and Partners, with input from engaged citizens around Oklahoma City. Wheeler District is designed around the idea of being walkable and bikeable. Consider classic neighborhoods in Oklahoma City like Mesta Park, or must-see communities in destination cities like Boston; Washington, D.C.; Chicago; New York City or Seaside, Fla., which were drawn upon for inspiration.
More than twenty-five vendors will line the streets of Wheeler District as the neighborhood hosts its first ever farmers market on May 5th. Every Friday from 6 to 9 p.m., visitors...
The Wheeler District Ferris Wheel, first catering to park goers on the Santa Monica Pier, has recently undergone a breathtaking transformation!A lighting redesign and installation by Stephen Tyler and Nathan...